Classic Furniture For The Digital Age
Whether it be to catch up on the news, lose ourselves in the world of reality TV or to binge watch our new favourite series, the television has become an essential aspect of not just the living room, but multiple rooms across the house. That's why investing in a good quality TV stand is of paramount importance to the success of any interior design in the modern age. Thankfully Top Furniture are well equipped to make your search a hassle free experience with our broad range of oak TV stands.
A key trait of any effective oak TV stand in the modern age is the ability to not just serve as a conventional TV stand but to also double up as a supporting storage unit. Top Furniture appreciate that a good TV stand requires not just a sizeable and sturdy surface for your TV to stand upon but to also offer us a multitude of storage options. You need somewhere to place your DVD players, to stack DVDs up against and possibly even to facilitate a selection of ornaments added to deliver an extra layer of character. That's why all of our TV stands come with a variety of storage options so that you can make the choice without worrying about the need to cram items into tight spaces.
Oak TV Stands For Any Room
Every room design is different and the space allocated for TV stands can vary widely. That's why at Top Furniture we place extra emphasis on the shapes of our TV stands. Whether you have a large space and are seeking a wide fitting or a tall standing design or if you have a more compact room design and require a tighter fitting corner stand, our selection of oak TV stands aim to fulfill any level of customer demand.
Available in a range of finishes from our oiled wax finish to our painted cream finish, our oak TV stands are designed to accommodate an eclectic mix of design trends.
If you would like to find out more information about our oak TV stands, or any of our oak living room furniture, get in touch with us and a member of our team will get back to you.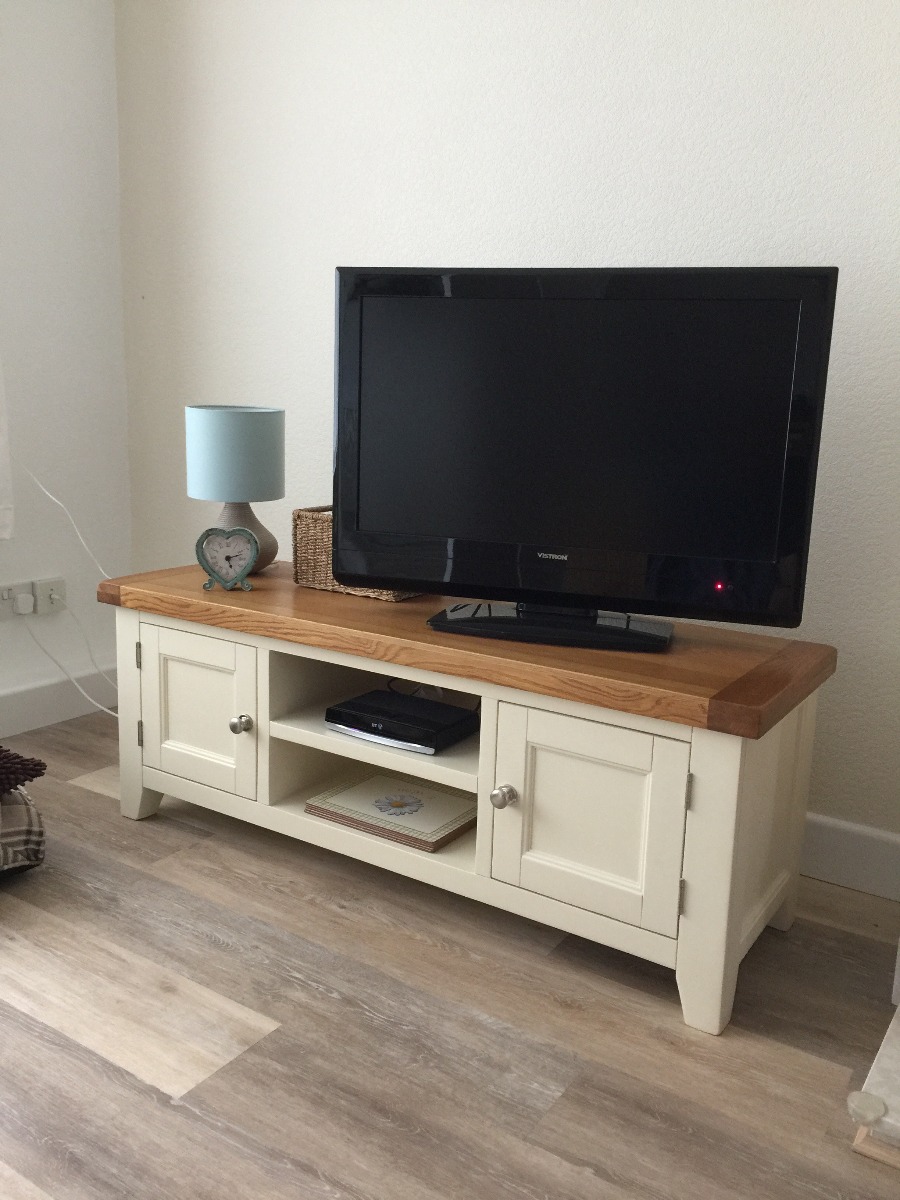 Happy Customers...
'TV's maybe a 20th century invention but the country oak TV unit looks so good that it could have been an original feature in my 18th century cottage. It goes perfectly with the oak beams and everyone who visits is very complimentary.'
'Absolutely delighted with the tv unit solid strong piece of furniture looks great in our room tv now at perfect height. Only trouble is we'll have to get a couple of matching tables now!'
'Looks gorgeous. I'm so pleased with this lovely unit. It's really sturdy and is well finished. The soft creamy colour and the wooden top give a warm feel to my living room. I keep looking at the unit instead of the TV!'
Flexible Finance Options
Top Furniture has teamed up with Klarna Bank AB to offer our customers some very competitive finance options.